I am in my fourth year of the Fire Protection Engineering Program at Lund University, Faculty of Engineering in Sweden. Significant courses have been Fire Chemistry and Explosions, Fire Dynamics, Fire Detection and Suppression, Risk Analysis Methods, Fire Safety Evaluation, Consequence Analysis, Human Behavior in Fire and Risk Based Land Use Planning. The spring of 2013 I will focus my studies on simulations of fires in enclosures.
Recently I presented my BSc Thesis, in Fire Protection Engineering, Fire Investigations – What happens afterwards? The thesis resulted in an article which has been accepted for publication in the Swedish journal Brandsäkert (Fire Safety), in January 2013.
From June to August 2012 I was hired as a Fire Protection Engineering Consultant in a coordinated project by the Iceland Construction Authority and the Capital District and Fire Rescue Service. I've also got leadership training from my time in the Swedish Armed Forces as a Second lieutenant. To download my complete CV/resume click on the link (or symbol) below.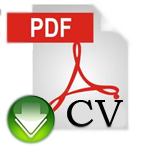 CV/Resume, Lina Lejonklou [Online 2012-12-30]